Is a Bean to Cup Coffee Machine right for my office?
With a variety of sleek, intuitive models, our range of bean to cup coffee machines are well-suited to the most modern office environments. Combined with freshly ground Lavazza coffee beans, customisable drinks and real milk options and your bean to cup coffee machine can say a lot about you. It's not just a coffee machine, it's a statement about your brand and your commitment to providing the best for your staff.
Which Large Office Coffee Machine is right for me?
If you're looking for a coffee solution for your large office, a bean to cup coffee machine could be just the thing for you! Our bean to cup machines come in all shapes and sizes so you're bound to find the right office coffee machine for you.
Below are some popular bean to cup coffee machines based on staff sizes. However, the best way to find the right machine for you is to speak with one of our bean to cup experts.
The ultimate bean to cup coffee experience
Looking for a hot drinks station with a difference? Whether you're looking to create an impressive drinks station for your colleagues or to wow your guests with a great first impression, our Coffee Corner may be perfect for your office!
Complete with our La Radiosa bean to cup coffee machine, flavoured syrups and sweet treats, the Coffee Corner is the ultimate solution for the sleekest of office environments.
Which Bean to Cup coffee machine is ideal for my office size?
A solid, simple and convenient coffee machine for medium spaces or kitchenette areas in larger offices
A compact table top bean to cup coffee machine with popular high pressure espresso technology - perfect for medium offices
A barista-style experience with real milk options – a show-stopping bean to cup coffee machine for large offices
Our largest office coffee machine, a high-end floor standing bean to cup model with 14 drinks options and a large capacity
Introducing the Lavazza Expert Coffee Range
Offering a superior selection of Arabica and Robusta coffee beans to produce a high quality coffee from your office bean to cup machine. Expertly roasted, Lavazza coffee beans are freshly ground moments before each cup is prepared, guaranteeing an authentic flavour every time.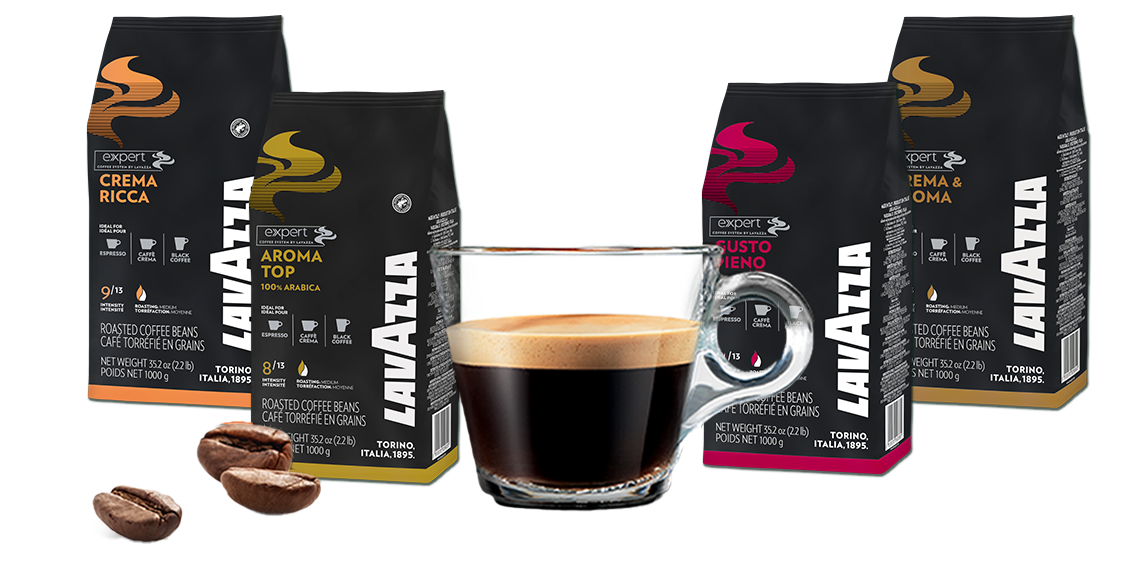 We know how important it is to have your favourite drinks available in the office. That's why our bean to cup machines offer more than just coffee.
Find out more about the delicious range of drinks some of our popular bean to cup coffee machines offer below:
If you'd like to learn more about the bean to cup coffee machines we offer, please get in touch with one of our experts today.  Alternatively, if you're ready to get a bean to cup coffee machine for your office, click get a quote below.