Hassle-free solutions
Your perfect office coffee machine partner
Unrivalled range of coffee, specialities, tea, soups and cold drinks served from our Bean to Cup, Freshpack, Capsule and In-cup systems

Proudly serving premium Lavazza coffee in all systems

Energy efficient technologies and sustainably sourced ingredients

Comprehensive end-to-end coffee system service maintenance with dedicated nationwide installation from expert engineers

Tailored payment options; cashless, contactless, coins or freevend

Flexible options for service, support and ownership with expert account managers to advise on best options
Which is the best office coffee machine for you?
Our experts are available for a free, no obligation chat to review your individual office coffee machine needs and help find the perfect solution. We've kept offices, factories, warehouses and break rooms humming along for decades
For a larger office
High performance, ultra-dependable technology
With our range of Bean to Cup office coffee machines, making the perfect cup of great tasting Lavazza coffee couldn't be simpler. Each of our machines come with a variety of ingenious features built in as standard. Intuitive digital interfaces make usability a breeze.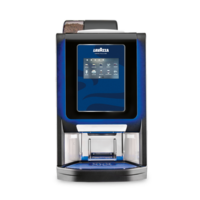 KREA TOUCH
High pressure espresso technology delivering premium quality Lavazza coffee, fresh from bean to cup. The real Italian coffee experience in the medium to large workspaces.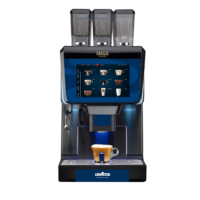 LA RADIOSA
This super compact barista-style table top machine is ideal for larger workspaces. La Radiosa serves the perfect cup of Lavazza coffee, fresh from bean to cup.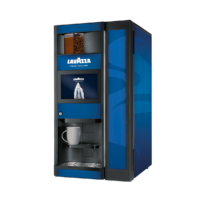 9100
A solid, simple and convenient machine for medium spaces. Offering premium quality Lavazza coffee, fresh from bean to cup, for an authentic coffee-shop experience.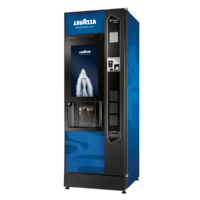 MAESTRO BLU
Vending machine with a minimalist and attractive design, complete with customixer to offer a full range of barista style drinks from Lavazza.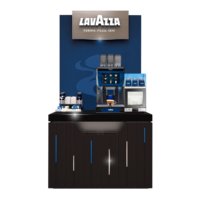 COFFEE CORNER
Enjoy the ultimate Lavazza coffee experience in your office environment with a range of barista styled drinks all in one place with the new purpose built Lavazza Coffee Corner Drinks Station. 
For medium offices
A perfect choice for your office or visitor area
High performance and hassle-free, FLAVIA office coffee machines with Lavazza Freshpack™ technology deliver a wide variety of perfectly brewed hot drinks in under 40 seconds, heating just enough water to the precise temperature for an A+ energy solution.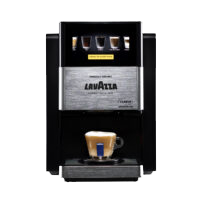 FLAVIA CREATION 600
Perfect for the office, freshly brewing a variety of premium drinks. Our latest cutting edge FLAVIA technology features intuitive touchscreen, automatic cup stand and milk frothing capabilities for the perfect brew.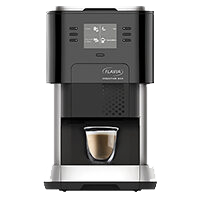 FLAVIA CREATION 500
The LAVAZZA Professional FLAVIA Creation 500 blends stylish design with enhanced drinks and menu display options making it easier than ever to create and enjoy the perfect brew.
For smaller offices
For your most individual spaces
Lavazza BLUE brings coffee shop quality to the office. Compact design combined with the freshness and premium quality of Lavazza pods, the BLUE system range is the perfect solution for those looking for a small office coffee machine.
Flexible costs and ownership options
We have over 6,000 customers in the UK alone, across professional services, finance, manufacturing, retail and many other sectors.  Each business has different needs and we can create tailor-made packages for bespoke services to meet your specific requirements.
Depending on the systems, drinks and service packages you choose, we can offer tailored discounts to work with your budget.
Financial packages available
- Outright purchase
- Rental options
- Free on loan (based on your drinks volume)
- Via our approved distributor partner network
- Facility and catering partners - we can agree and manage the purchase with your catering or facilities partner
Drinks & service packages
- Fully managed service - we'll stock and manage your machine for you
- Self service or DIY - you manage the day to day running and stocking of your machine
- Catering or Facilities Partner - we can work In conjunction to agree and manage drinks order
- Distributor Partners - they can directly manage and order drinks for you
Free on loan : Drinks only contracts available
Based on your required drinks volume, we are often able to offer systems free on loan to customers as part of a drinks contract. Speak to our advisors to find out more.
We're passionate about our products and customer service, so regardless of the packages you choose you'll always receive our 24hrs technical response time, account management support, onsite training and UK customer support teams.
- Premium - our full, 24/7 service package
- Standard - basic service and maintenance
- Catering or facilities partners have tailored packages from KLIX to suit your needs 
Passionate about making a positive difference
We know our customers care about our planet and so do we
At Lavazza Professional, we have always been devoted to create a more sustainable workplace by delivering even more sustainable drinks vending technologies and by helping our customers to increase their sustainable operations.

Instant satisfaction
KLIX Momentum
From the factory floor, warehouse or manufacturing site, KLIX offers a reliable and quick refreshing break every time. Supporting your 24/7 operation with a drinks range to suit every taste.