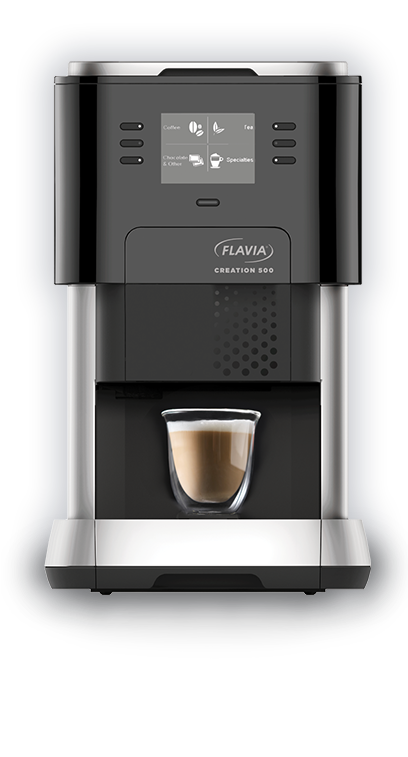 Currently out of stock
Please contact us for information about future release dates. Or alternatively, consider our Flavia Creation 600 machine.
The LAVAZZA Professional FLAVIA Creation 500 blends stylish design with enhanced drinks and menu display options making it easier than ever to create and enjoy the perfect brew. CALL
0800 0323 444
or
QUALITY CHOICE
HASSLE FREE
SUSTAINABILITY
Features at a glance
Coffee shop quality in the workplace
FLAVIA Creation 500 blends an impressive drinks menu with our classic FLAVIA technology for dependable workplace reliability to create and enjoy the perfect brew. The hassle-free single-serve Freshpack™ brewing system delivers your choice of fresh hot drink in under a minute with no mess or fuss.
Choose from over 15 quality hot drinks
Choice includes a range of exquisite Lavazza coffees brewed with Freshpack™ technology.
The latest one pack specialities range effortlessly serves delicious indulgent drinks at the touch of a button, from a single Freshpack™.
Energy efficient technologies
FLAVIA technology is designed with efficiency in mind, we continue to pioneer a range of technology that leads the workplace drinks industry with sustainability features - such as low energy modes and twin tank boiler systems, heating just enough water at precisely the right temperature , avoiding unnecessarily heating water before it's required.
Drinks for all tastes
Create your perfect drinks menu
With a range of delicious coffees, teas, soups, snacks, specialities and cold drinks from the nation's favourite brands, we can help you select the perfect drinks menu to suit your needs.

Show All Drinks
Width: 434mm
Height: 269mm
Depth: 505mm
Support
Contact us
Contact us via the form below and one of our experts will be in touch within 24 working hours
"I didn't even look into other suppliers as the response and service I received from Lavazza Professional was superb"
-Coventry Uni-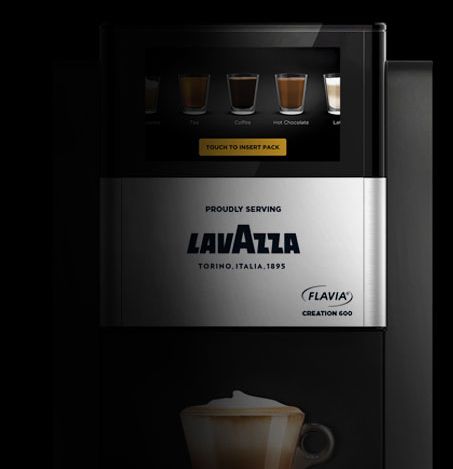 Find Your Perfect Workplace Vending Machines
Choose from our range of workplace vending solutions to suit every business