Whether you're returning to work, preparing for a return in the future or perhaps you never left, one thing is for certain – the way we're working is changing to improve workplace cleanliness.
We're passionate about making a positive difference that goes far beyond our own business, by helping customers return to work safely and effectively, improving cleanliness and minimising machine contact to reduce the chance of transmission. We understand how important it is to introduce breakroom precautions to ensure your team can continue to take time and comfort in enjoying their favourite workplace drinks.   
Having spent most of this year avoiding contact with others and all that they've touched, we're now faced with sharing again. Plans worldwide have limited our proximity with one other, yet we all remain bound by the simplest of things; including the essentials needed to take a break and enjoy a coffee at work. 
Drinks vending is a simple and incredibly effective solution for reducing touch points and lowering the risk of Coronavirus transmission. Perfect in high footfall environments, vending machines are a great way to support your employees' wellbeing with a hygienic solution. Kettles, containers, dishwashers and shared crockery have become a thing of the past as employers focus on workplace hygiene. Our range of machines are all built with hygiene in mind with limited touch points, cashless payment systems and even distance selection technology.
Get ready for the return to the workplace making break times safer
Many workplaces have already taken incredible steps to adapt and move with the times to keep their staff and visitors safe, making hygiene fundamental to their workplace operations.
It's important to maintain the confidence of your workforce as they return to work and improving safety without unnecessary compromising on break times. Here are some tips to ensure your team enjoy their breaks safely.
Wave goodbye to queues for coffee
A good vending machine can make break time queues a thing of the past by reducing the time it takes to prepare a drink.
Avoid lines in breakrooms and office spaces with fast vend times from KLIX that serves drinks in under 20 seconds or FLAVIA that brews in under a minute – perfect for Coronavirus risk reduction and gives your team more time to enjoy their break or get on with their day! 
Keep numbers to a minimum
As break times spread out across a normal workday, there will be peaks of demand to use the breakroom or drinks station. You can manage the risk of transmission by reducing the number of people using your area at any one time.
It may be time to think outside the box and turn old spaces into new break areas. Tabletop systems such as FLAVIA are small and portable, perfect for spaces which were not originally designed for your team's well-earned break. With more space and opportunities to grab their favourite drinks at work, your team is less likely to travel outside for food and drink, decreasing the risk of contaminants being brought back from less controlled environments.
Add more coffee areas or workplace bubbles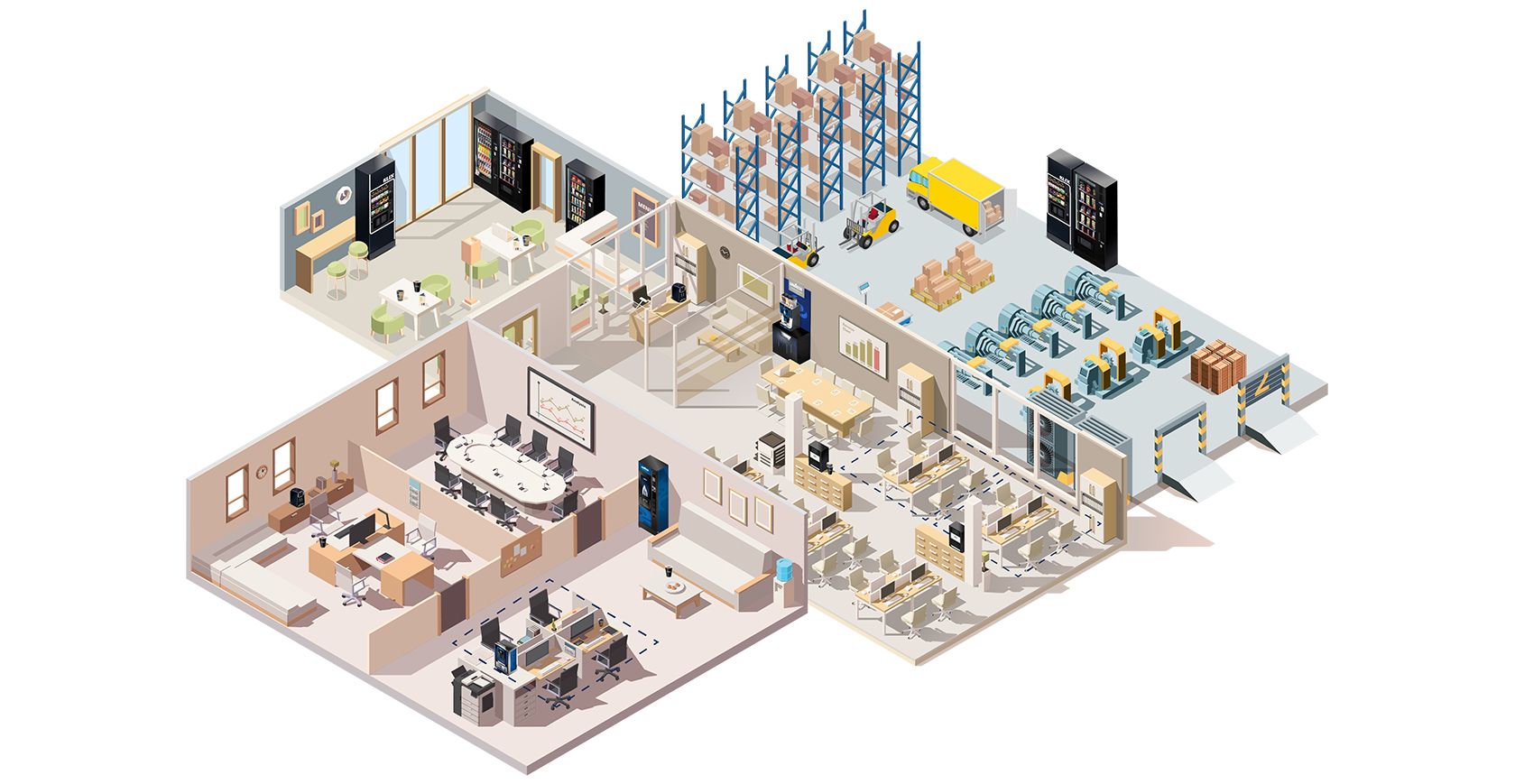 Workplace bubbles can be introduced to help prepare your team return to site and avoid queues in breakrooms and office spaces. 
The UK has seen success with the formation of bubbles in society to manage COVID-19 risk, such as between groups of school children. This allows for easier tracing, but also assists in containing any potential outbreaks before they spread further allowing for business continuity. 2/3 of workers are anxious about returning to the office*, so introducing your very own bubble system could help put your team's mind at ease. Find out more about creating workplace bubbles
here
.
Make hand sanitiser more handy
Hand sanitiser is a must when it comes to reducing the chance of transmission. Set up hand sanitising stations around your breakroom close to your drinks stations, so that hand hygiene is always top of mind. Pair these with posters to remind people to wash their hands for 20 seconds – just enough time while you wait for your drink to brew! 
Reduce human touchpoint with low contact vending
The right vending solution can greatly reduce human contact touch-points associated with making a drink, minimising contact at your coffee stations and in kitchens.
Sharing is not always caring in the current climate and you may have noticed that with some more traditional drinks preparation methods, such as the humble kettle, the number of items you touch can really add up! Replacing the kettle with a drinks vending machine means no sharing of milk, no dirty mugs, no arguments over the dishwasher, no mess and no fuss!
You pick up the kettle, use a tap to fill the kettle, open and close multiple cupboards, select a cup, pick a spoon from a drawer or container, open a coffee, tea and sugar containers and open the refrigerator for the milk container. Depending on different environments and drinks preferences, there are likely to be even more touch points in many situations.

Compared to vending a drink...
A KLIX vending machine offers a far lower contact solution using a simple one-touch operation. You select a drink of choice on the machine then take your cup from the machine. If you charge for drinks, a contactless payment option can help to keep contact points to a minimum. 
With minimal touch points and contactless payments our KLIX, FLAVIA and Bean to Cup machines offer great low-contact brewing options. A few taps and you're away, helping to remove the stress from taking a beak safely and making your team feel comfortable as they enjoy their favourite drinks! With integrated systems and digital controls, our machines have no cross-contamination. The only person to touch your drink will be you!
Distance selection technology
Our entire range of advanced Bean to Cup machines are designed with high performance and ultra-dependable technology for the workplace, delivering premium coffee shop quality drinks with contactless coffee machines. The latest 'Distance Selection' technology helps minimise contact, reduce the risk of transmission and means users can select, collect and enjoy their workplace beverages without making any physical contact with the machine.
Find out more here.
Contactless payments option
If you choose to offer drinks or snacks for a small fee, contactless payment readers are a perfect solution to continue with safety and workplace hygiene at the front of mind, reducing human touch-points and helping to take away worries of Coronavirus transmission.
Installing a cashless payment reader to your hot drinks or snack vending machine is straightforward and hassle-free. Get in touch today or contact your Lavazza Professional Account Manager to discuss setting up cashless on your hot drinks, cold drink and snack vending machines, and our team will arrange the rest.
Keep your equipment and environment clean
No piece of equipment is dodging a good clean as you return to work! The sleek exterior of our vending machines makes your cleaning routine easy – simply wipe thoroughly with a food contact safe disinfectant and pop any loose parts through the dishwasher. 
When it comes to fixing, fewer parts definitely equal fewer problems. Our efficient machine technology cuts down on unnecessary visits from external technicians with an average of over 75 weeks between service calls.¹ 

Smartphone apps for personal ordering
With the Tap N' Brew App, you can make your FLAVIA favourites without touching the C600 brewer screen. The FLAVIA Tap N' Brew app mirrors the FLAVIA C600 brewer screen's functionality to select, personalise and brew favourite hot drinks directly from a smart phone.
The app that's exclusively available for IQ-enabled FLAVIA Creation C600 brewers allows users to touch less at the scan of a QR code. All you need to do is select your drink, insert your Freshpack and follow the in-app prompts to customise your drink. The new to Lavazza Tap N' Brew App is just part of what makes FLAVIA designed with hygiene in mind.
In-cup
Our pioneering KLIX In-Cup technology ensures consistent quality and authentic taste every time - loved by you and trusted by our brand partners.
In-pack
FLAVIA brewers use the unique Freshpack system that brews your drink direct from pack straight into your cup. No contact, no taste transfer between drinks.
Bean-to-cup
The delicious premium taste of freshly ground Lavazza coffee served from bean to cup, guaranteed to satisfy coffee lovers in the most demanding workplaces.
*https://www.personneltoday.com/hr/two-thirds-anxious-about-returning-to-offices/ 1 75.6 weeks Mean Time Between Failure (MTBF) up to December 2019 on KLIX machines, 190 weeks Mean Time Between Failure (MTBF) up to December 2019 on FLAVIA machines