Having spent most of this year avoiding contact with other human beings and all that they've touched, we're now faced with sharing again. Plans worldwide have been implemented and enforced to limit our proximity to others, yet we all remain bound by the simplest of things; including the essential need to take a break and enjoy a coffee at work.
However the past year has looked for you and your team, Lavazza Professional are here to welcome you back to the workplace safely and prepare you with a customised plan for your space.

Plan ahead with our handy tick list, preparing you and your workplace as colleagues return to work safely.
The Reimagined Workplace
No doubt like many organisations, you've asked yourself a million questions about how to reduce the risk of transmission in your workplace. Where will everyone sit? How will we keep everyone motivated? How often should we be cleaning? How do we promote wellbeing and engage our team? What about our break room...?
Should you be making plans to return to work, it's important to maintain your team's confidence in the safety of your workplace without making compromises on break times.

Our experts at Lavazza Professional are here to advise and help you tailor your return to workplace based on the needs and requirements of your team.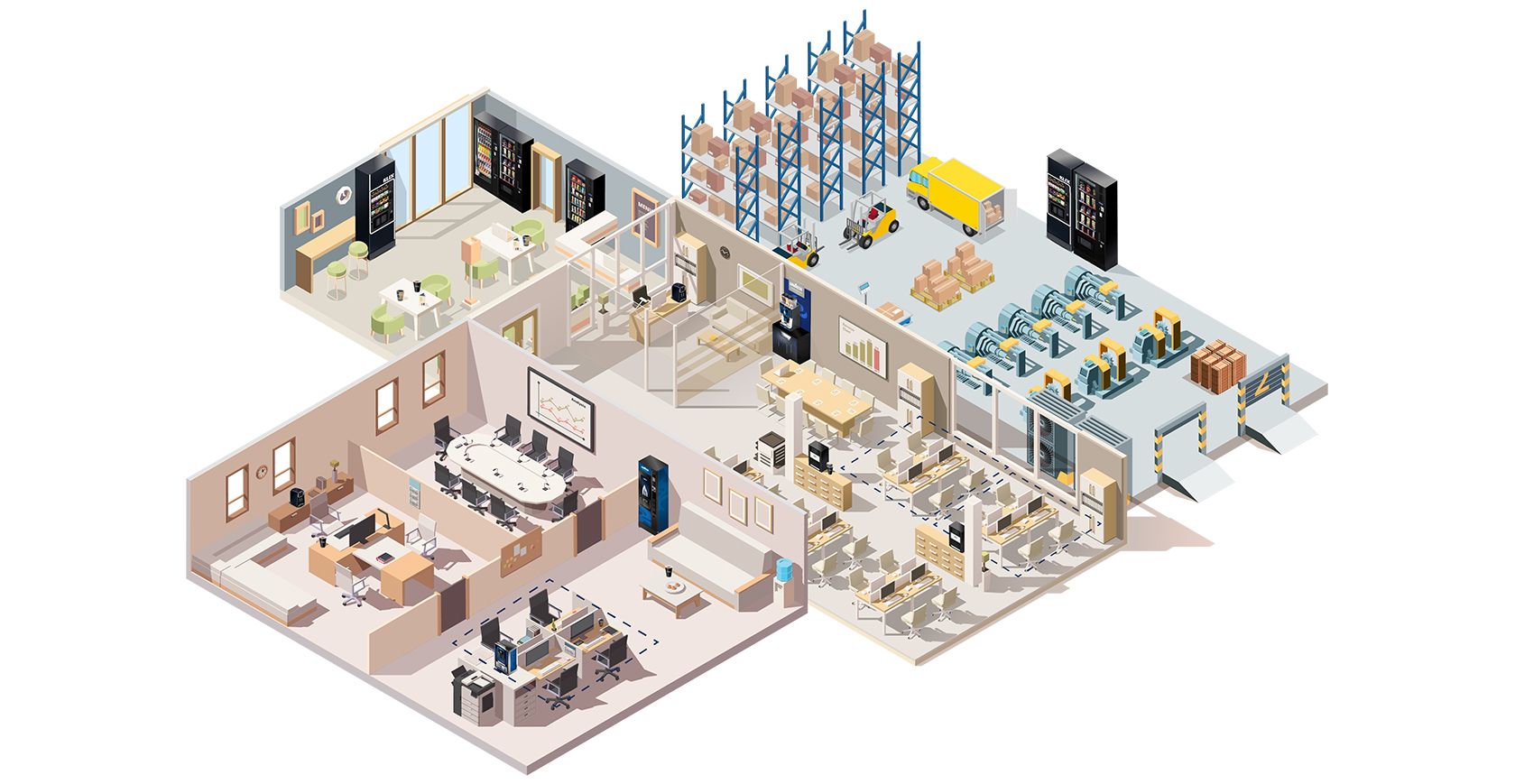 Safety
We understand that while some members of your team may be desperate to get back to the office, others may feel anxious about the return to work. When it comes to your vending machines, help put their minds at ease and check out our hygiene tips.
Better Coffee Spaces
The health and wellbeing of your team has never been more important and taking a well-deserved break at work can go a long way to keeping your team refreshed and revitalised. Make sure your team are getting the breaktime they need and deserve.
Celebrate with us!
The day has finally arrived when the team can be back together at work! Why not do something special to mark the occasion? If you haven't done so already, switch your machine to free vend or look at more ideas on how to celebrate.
What's new?
New innovations at Lavazza Professional
Discover all that is new at Lavazza Professional, from new drinks from the nation's favourite and iconic brands through to cutting-edge technology. 
In-cup
Our pioneering KLIX In-Cup technology ensures consistent quality and authentic taste every time - loved by you and trusted by our brand partners.
In-pack
FLAVIA brewers use the unique Freshpack system that brews your drink direct from pack straight into your cup. No contact, no taste transfer between drinks.
Bean-to-cup
The delicious premium taste of freshly ground Lavazza coffee served from bean to cup, guaranteed to satisfy coffee lovers in the most demanding workplaces.