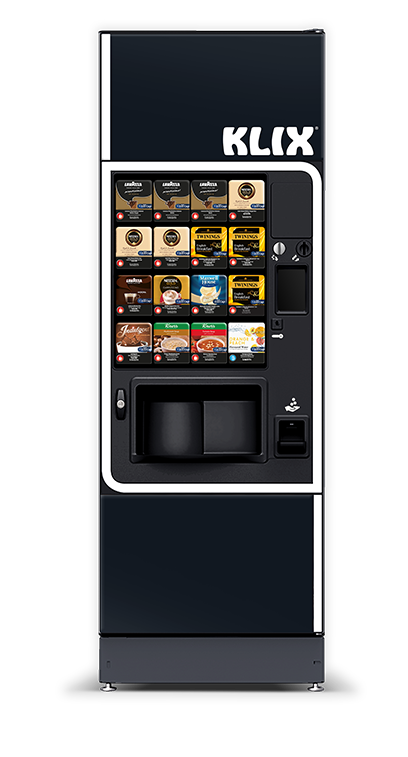 Support your fast-paced work environment with quick, great tasting in-cup drinks.
CALL 0800 0323 444 or
People
Drink Options
Capacity
Features at a glance
Passion, excellence & innovation in workplace vending
Our dedicated teams combine unique business insights and in-depth vending expertise to tailor hassle-free vending solutions to each workplace, providing the perfect blend of the technology you can depend on and a range of drinks to refresh and delight every consumer.
Reliability
From the factory floor, warehouse or manufacturing site, KLIX offers a reliable and quick refreshing break every time. Supporting your 24/7 operation with a drinks range to suit every taste.
Sustainability
We know our customers care about our planet; and so do we. We're committed to working together for a brighter future. Our people are dedicated to helping our customers achieve their sustainability goals with technologies.
Designed for the workplace
To keep workdays running smoothly, whilst co-workers and visitors enjoy delicious drinks around the clock
Exceptional range of drinks
Range of tea, coffee, lattes, cappuccinos, soups and cold drinks
Quickly and easily restock drinks and change offerings to suit the needs of your workplace
Choose from 3 payment options; cashless, contactless, coin payment or freevend
Pioneering KLIX In-Cup technology
In-cup technology
Ingredients are pre-sealed in the cup, the machine simply adds water. This technology concentrates the complex process of mixing ingredients away from the machine and ensures you get the purest flavour in every cup.
Drinks for all tastes
Create your perfect drinks menu
With a range of delicious coffees, teas, soups, snacks, specialities and cold drinks from the nation's favourite brands, we can help you select the perfect drinks menu to suit your needs.

Show All Drinks
Width: 630mm
Height: 1830mm
Depth: 710mm
Hot: 103kg
Hot/Cold: 134kg
Fused 3 pin plug into 13 amp switched socket, Single Phase Supply. 4 metre cable and plug supplied
Mains drinking water supply with a 15mm OD x 3/4 BSP Male (WRAS approved or equivalent) isolation valve, no more than 1 metre from the machine; flexible hose supplied
Bar: 1.0 - 7.0 bar, PSI: 15-100psi

Sustainability
KLIX Momentum with Eco Cup
MADE FROM PAPER, PLASTIC FREE, RECYCLABLE
We're proud of our vending revolution, helping to make it even simpler for our customers to reduce their environmental impact.
Support
Contact us
Contact us via the form below and one of our experts will be in touch within 24 working hours
"I didn't even look into other suppliers as the response and service I received from Lavazza Professional was superb"
-Coventry Uni-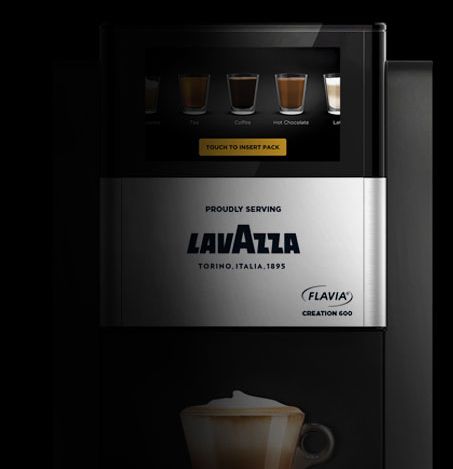 Find Your Perfect Workplace Vending Machines
Choose from our range of workplace vending solutions to suit every business