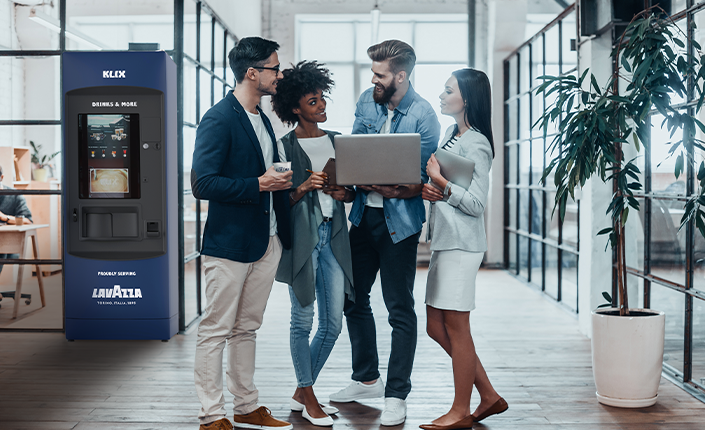 Lavazza Professional is proud to announce their very latest premium drinks vending system will start shipping to businesses from June 2023.
The KLIX in-cup system has been known for its convenience, quality and reliability in workplaces across Europe for decades. The next generation – KLIX Advanta system – is the latest innovation from the experts in workplace drink vending. The KLIX Advanta brings a range of new features and functionality to industry leading KLIX systems, already enjoyed by tens of thousands of people every day.
KLIX Advanta is built to offer an even greater taste experience with Lavazza coffee at its heart. It features a new frothing system developed by Lavazza Professional engineers with advanced technology to perfectly aerate milk foam in the cup, creating velvety and luxurious frothy cappuccinos and lattes.
Consumers can enjoy Lavazza coffee blends and indulgent Lavazza frothy specialities, hot chocolates and refined teas and infusions from premium brands, alongside refreshing cold drinks. The complete range of premium drinks is all available from the convenience of a single system.
The latest KLIX Advanta system matches its premium selection of drinks with contemporary design characterised by the iconic Lavazza blue matte finish, sinuous lines and a sleek, intuitive touch screen. KLIX Advanta will help fuel break times and increase productivity with a more satisfying and engaging drinks experience.
The contemporary design, practical features and enhanced variety of quality drinks available is designed to serve an even wider spectrum of locations and consumers than ever before – appealing to office spaces and fast-paced high traffic public locations, such as retail environments and universities, as well in the canteens, warehouses and on busy factory floors where KLIX has earned an enviable reputation.
The latest generation of the best-selling KLIX system uses pioneering in-cup technology, tailored perfectly to those seeking a high quality, ultra-reliable, hassle-free vending solution and a complete range of delicious tasting drinks in the workplace.
As part of the Lavazza Group wider Roadmap to Zero and of the Sustainable Packaging Roadmap strategic plan to reduce CO2 emissions, KLIX Advanta uses the revolutionary plastic free KLIX Eco Cup, an ambitious step forward in plastic reduction, helping customers to reduce their environmental impact and help maximise recyclability.
Ken MacIsaac, Market Director at Lavazza Professional UK, "KLIX Advanta brings our new vision to the market and a perfect balance of elegance and efficiency. The latest generation of our best-selling multi-drink system will set new high standards for quality breaks".
"We believe we have refined a system with a wide variety of great tasting drinks, meaning every consumer will enjoy every sip from every cup that KLIX Advanta serves – premiumising break times with refined coffee blends and the all-new advanced frothing system to serve even richer, frothier coffee specialities from Lavazza".
"Our range of drinks continues to expand and evolve in new and innovative ways to meet the high expectations of today's consumer, with an innovation pipeline bringing even more choice of iced coffees, iced teas, infusions and more from premium brands in the months to come."
For longer-lasting pleasure, luxurious frothy coffee specialities are now available in XXL size too.
KLIX Advanta is also designed for low maintenance operation, with system and drinks pricing that means quality drinks at break times are accessible to even more businesses.
The launch of KLIX Advanta is guaranteed to generate significant interest in the workplace, increasing employee productivity and fuelling breaks with a more satisfying and engaging experience from summer 2023.
Learn more about the KLIX Advanta and its new drinks offerings here.
About Lavazza Group 
Lavazza, founded in Turin in 1895, has been owned by the Lavazza family for four generations. Today the Group is one of the leading players on the global coffee scene, with turnover of over € 2.3 billion and a portfolio of top brands that lead their respective markets, such as Lavazza, Carte Noire, Merrild and Kicking Horse. 
It is active in all business sectors and has operations in 140 markets, with 9 manufacturing plants in 6 countries and over 4,200 collaborators all over the world. The Group's global presence is the result of over 125 years of growth and the more than 30 billion cups of Lavazza coffee produced every year are a testament to a remarkable success story, with the goal of continuing to offer the best coffee possible, in all forms, by focusing on every aspect of the supply chain, from the selection of the raw material to the product in the cup. 
Lavazza Group has revolutionised coffee culture by investing continuously in research and development: from the intuition that marked the company's earliest success – the coffee blend – to the development of innovative packaging solutions; from the first espresso sipped in Space to the dozens of industrial patents. The ability to be ahead of the times is also reflected in the focus on sustainability – economic, social and environmental – which has always been a benchmark for guiding corporate strategies.
"Awakening a better world every morning" is the corporate purpose of Lavazza Group, with the aim of creating sustainable value for shareholders, collaborators, consumers and the communities in which it operates, combining competitiveness with social and environmental responsibility. 
About Lavazza Professional 
Lavazza Professional is part of the Lavazza Group and home of popular vending brand KLIX and OCS system FLAVIA. Lavazza Professional is a leader in vending, operating in Europe, North America and Japan, with offices based in the United Kingdom, France, Germany, North America and Japan and several production plants across all the geographies.