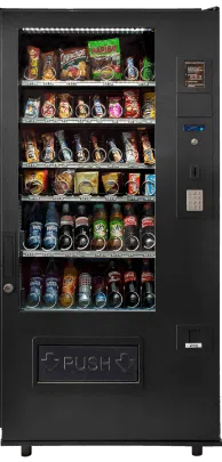 The G-Snack BS8 Combi Drinks & Snacks vending machine provides a range of confectionery, savoury snacks and cold drinks.
CALL 0800 0323 444 or
Your complete snacking solution with the ability to store up to 42 selections of snacks and cans.
Comes in a stylish matte black finish with a clear LED glass front - perfect for any modern workplace.
You can choose between filling and managing your machine or letting us do this for you.
Built for energy efficiency.
Key Features
A range of confectionery snacks and cold drinks
-Holds up to 42 selections of snacks and cans
-Stylish matte black finish with LED lit glass front
-Built for energy efficiency
-Flexible removable shelves for you to custom fit the configuration to your needs
-Comes with our Lavazza Professional service packages
Some of the nation's favourite drink brands

Width: 885mm
Height: 1830mm
Depth: 780mm